Why EurProBiol?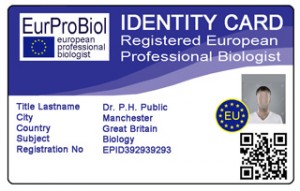 Modern biology is a cornerstone in providing solutions for global challenges in fields as diverse as nutrition, health, energy, and sustainability. Biology plays a central role in sustaining our common future. Handling such large, complex but delicate problems requires a professional approach. The importance of modern biology or new biology as we call it today is described in the BIO2020 document which is available on the ECBA website.
As Europe increasingly develops common standards, it is essential that the professional competence of those who oversee the maintenance of standards is recognized. Academic qualifications alone have limited value.
In providing an acceptable common professional standard, the European Professional Biology requires experience in applying knowledge, skills, attention to safety and environmental consciousness, a sense of responsibility and an ability to communicate and level of supervision received.
The designation EurProBiol is a professional qualification!
Registrants have an academic qualification combined with a track record of professional experience.
EurProBiol was designed in the early 80´ies to facilitate the acceptance and free movement of professional biologists throughout Europe.
The designation EurProBiol is in accordance with Directive 2005/36/EG.
EurProBiol accredited biologists are registered as qualified biologists. The public Register EurProBol's is held by ECBA.
++++ MESSAGE FOR EPB'S ++++
Message for EurProBiol title holders:
• Please update your details, they will be used for your EPB-ID CARD.
If you have questions or need any help,  mail to:  ECBA@ECBA.EU